Improve your logistics with our smart tracking solutions
Improve your logistics with our smart tracking solutions
Improve your logistics with our smart tracking solutions
From containers to parcels we offer you the tracking solution that fits your requirements. Get the information you want, when you need it. You receive an alert the moment something goes wrong, so you can take immediate action. Our unique patented flight mode and our vessel mode provide end-to-end visibility of your shipments. Therefore you can always keep an eye on your goods and assets, real-time, anywhere in the world. Both in transit and in storage.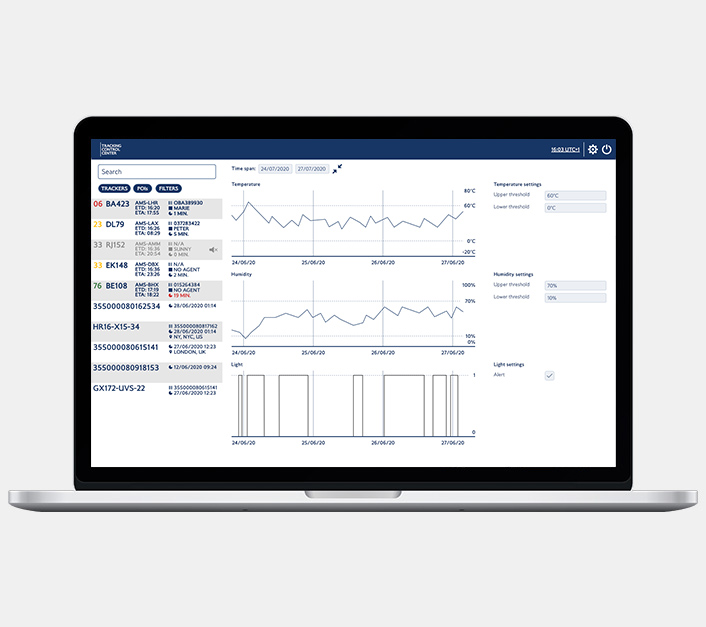 Cutting edge technology to deliver a smart & dynamic solution
Yes, we have created a smart tracker that autonomously optimizes its behavior based on the mode of transportation it's on. But most of the smartness is in our platform, which uses a lot of AI context to dynamically instruct the tracker. This means you get informed when something relevant happens with your shipment or asset, while avoiding unnecessary updates, which only deplete the battery.
Get started instantly
Our aim is to make our solutions very easy to use. Therefore our trackers do not have an on/off switch and operate based on movement. So once you've charged the trackers you are good to go and can monitor your assets via our Tracking Control Center, our web based interface.
Visibility anywhere, anytime
To make sure our trackers work all across the globe, both indoors and outdoors, we use a wide range of technologies: LTE Cat M, NB IoT, 2G, Lora, Bluetooth, GPS and Wi-Fi to locate the tracker and get the tracker to communicate to our platform.
Customize and integrate the solution to fit your needs
Our trackers automatically adjust their behavior based on the transportation mode used. You can further optimize their behavior depending on your own preferences. To enhance the value for your business you can also transfer relevant information between our platform and your own systems using our API. This way you can create your own "fit for purpose" tracking solution.
Longest battery lifetime
Since our trackers only communicate when they need to, they save battery life, lasting the distance for any possible use case. The battery of our trackers easily lasts a few months for an ocean freight shipment, to a few years for tracking valuable assets like trailers or containers. We also provide a gateway which is continuously powered, so no recharging is required at all.
Newsletter & updates
Sign up for our newsletter to stay updated on our latest projects: