Fresh chain tracking
Prevent wasting valuable fresh chain products
Prevent wasting valuable fresh chain products
Fresh chain tracking
Fresh chain tracking
Improve the quality of your fresh chain logistics with real-time visibility, traceability and reliability. With the Versa trackers and our platform you can maintain accurate, real-time location, temperature and condition monitoring of your valuable fruits and vegetables. And if something goes wrong, for example when a shipment exceeds the maximum temperature, you get notified immediately. So you can act swiftly and prevent loss or damage. By helping reduce waste and eliminating the need for shipping replacement products, it also helps with running a more environmentally sustainable business.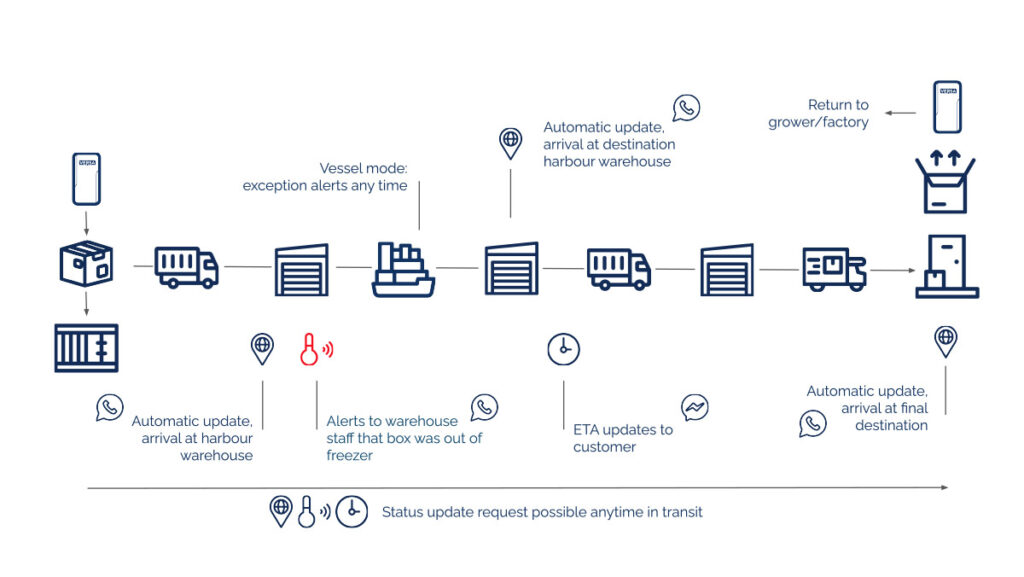 Improve your service quality
You always know where your shipment is and whether or not it will arrive on time.
All location and sensor data instantly available
You don't have to download the data from a USB logger.
Take immediate action
Act the moment a breach of temperature or humidity occurs.
Reduce customer support activities
It will reduce customer support activities if all parties involved, including the customer, have real time insight into the whereabouts of their shipments.
The evidence of goods being delivered in good condition
This also enables faster invoicing and payment. And if something went wrong with the shipment we enable clear pinpointing of where it went wrong and therefore who is to blame and should bear the cost. This will help the efficiency and effectiveness of the claims process with the insurance company.
Monitor the end-to-end performance of your transports
And find ways to improve your logistics processes.
Optimize the utilization of your packaging and load carriers