Pharmaceutical tracking
Monitor your pharma shipment across all modes of transport and in storage
Monitor your pharma shipment across all modes of transport and in storage
Pharmaceutical tracking
Safety and high quality are crucial in pharmaceutical logistics. WIth our real-time tracking solution you are ensured the conditions of your goods are monitored both in storage and throughout their journey. And if something goes wrong you get notified immediately, for example when a shipment exceeds the maximum temperature. So you can act swiftly and prevent loss or damage. By helping reduce waste and eliminating the need for shipping replacement products, it also helps with running a more environmentally sustainable business. We've made sure that our technology, both hardware and the platform, is GxP compliant.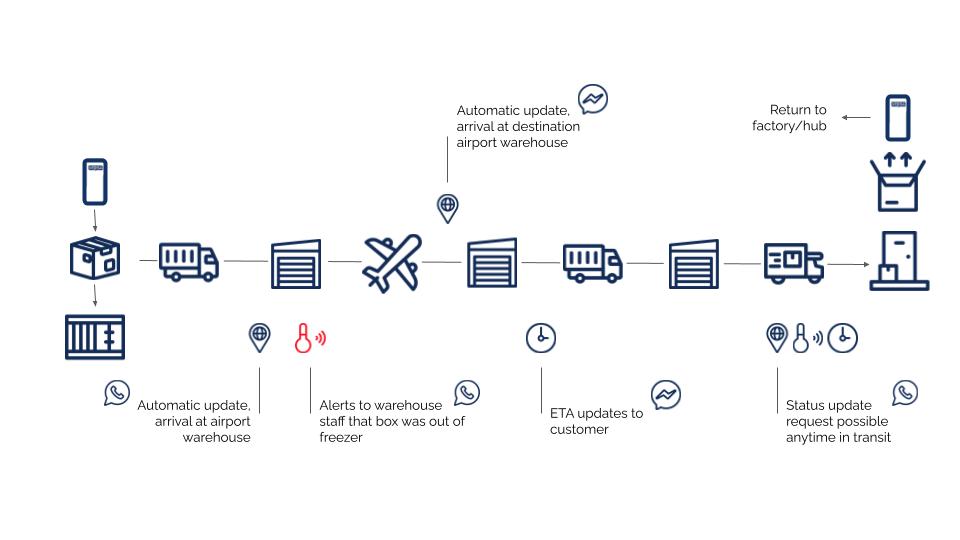 Once the tracker is put inside a box or container it tracks the location and conditions of your pharma shipment during its entire logistical journey. The tracker provides an automatic location update at all relevant Points of Interest (like warehouses, airports, border crossings, etc.). Should something happen, like a breach of temperature, because somebody forgot to put the vaccines in the freezer at the airport warehouse, you get notified immediately. For every type of a so-called event you can decide who should receive a notification: warehouse workers, ground handlers or even the customer. Of course you can request an update on location and conditions anytime. You can also receive an updated ETA of the shipment. On arrival all relevant transportation data (conditions with location and timestamp) can be automatically stored, to comply with regulatory requirements. Last but not least we've made sure that our technology, both hardware and the platform are GxP compliant.
Ensure and enhance quality and safety
Accurate, real-time temperature and condition monitoring of your pharmaceutical shipment.
Avoid waste or damage
Take immediate action when a breach of temperature or humidity occurs.
Find out where something deviated
And if something went wrong with a shipment we enable clear pinpointing of where it went wrong and therefore who is to blame and should bear the cost. This will help the efficiency and effectiveness of the claims process with the insurance company
Improve quality and efficiency
Enhance your regulatory compliance processes with real-time data capture of your shipments. And automatic storage of these data on arrival in relevant systems using our API.
Gathering all data on shipments
Data captured over time can show weak links in the whole supply chain, leading to structural improvements like warehouse performance, switching airlines, using different routes and switching shipping companies.
Monitor the end-to-end performance
And find ways to improve the transport of your shipments.